Watersports West received our first shipment of Bonafide Kayaks. For those of us that didn't see them at the ICAST show, we are impressed with the overall quality. We have all been studying the brochures and have seen the pictures online, but the pictures don't do them justice. Bonafide has gone above and beyond to manufacture a high quality, completely accessorized kayak fishing machine.
On our first shipment of Bonafide Kayaks we received only the SS127 model, we are still waiting for the SS107. We took the SS127 out of the packaging, dropped it in the water, and played around on it for a while. Here's what we found.
Performance
To be a true kayak fishing machine, Bonafide had to create a stable platform for people to stand up on without sacrificing paddling performance. At only 33.5″ wide, its not the widest kayak on the market. The stability has to do with the hull design. Bonafide designed the hull to be similar to a catamaran shape, this helps it achieve its super stable platform. At almost 200 lbs you can comfortably stand and fish facing multiple directions. Bonafide rates the SS127 to 475 lbs so even if you're above 200 lbs, you'll be able to feel comfortable walking around its deck.
The SS127 was designed, tested and redesigned to get a hull that is unbelievably stable, tracks and turns efficiently. If the stability doesn't surprise you then the ease at which this kayak glides through the water will. Its hull design is unlike any other kayak we have ever seen. A lot of time went into making this one of the best sit-on-top kayaks on the market.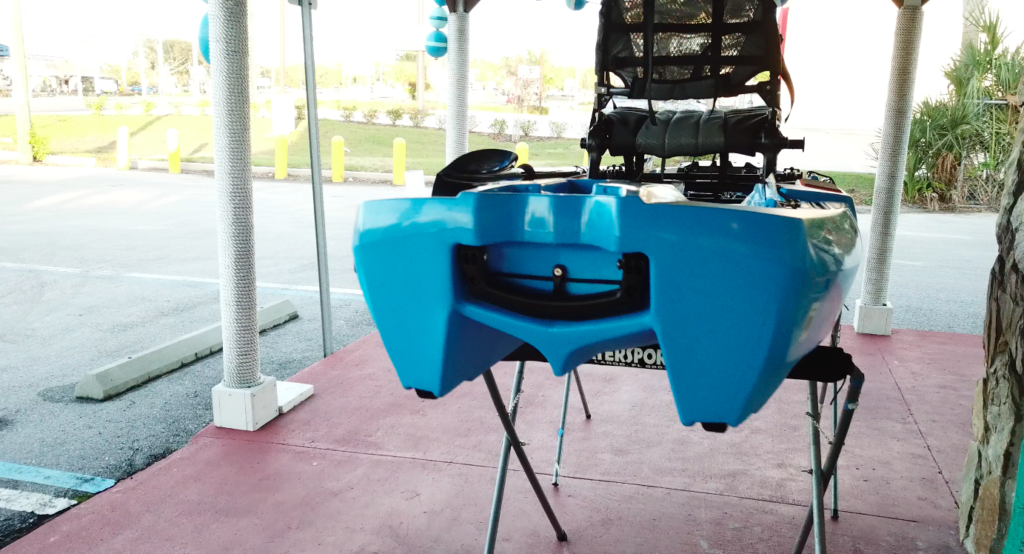 Accessories
One thing Bonafide wanted to make sure they had was accessories. They wanted the accessories to be within an arms reach away but not in a place where it will impede your ability to fish. Here's a list of some of the features:
Sliding under seat Junk Drawer™
DryPod™ with transducer through-hull scupper
Bow hatch with Doubleheader™ hinges
Multi-rod and paddle management points
HiRise™ seating with ultra-high bass boat like position
PerchPads™ for additional standing position on top of gunwales
Integrated Doubleheader hinge with DryPod™
Boss Strap™ rod management system
Fat Grip™ bow handle w/ comfort insert
Fat Grip retractable stern handle w/comfort insert
YakAttack®Aluminum GearTrac™
Side carry handle with paddle storage
Low Profile Deck Fittings
SeatRack™ positioning system
Omni Hook™ stern tankwell tie-down system
Deck Traction Pads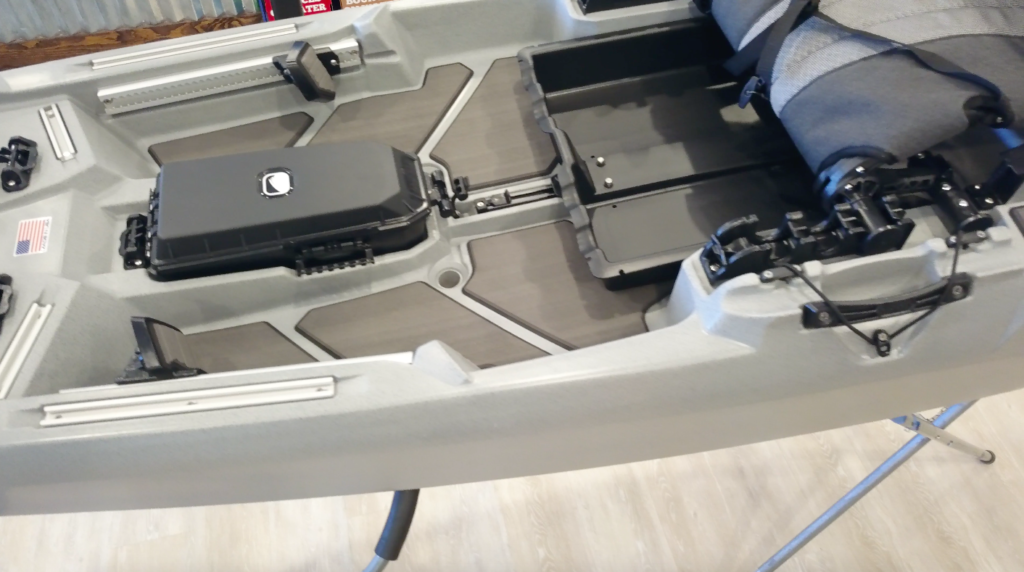 All the accessories used are built with quality and detail. You will be impressed with the level of detail and precision on everything from the YakAttack tracks to the eyelits and everything in-between. Anything you could possibly imagine that you would need on a fishing kayak could be done with the Bonafide SS127.
Comfort
The experience starts with the incredibly comfortable HiRise™ seating system.  The ultra-high seat allows you to sit with your knees bent, taking pressure off of your lower back.  If you want to really dig in and cover some distance, the SeatRack™ and foldable seat frame allow quick and quiet conversion to a lower position.
A great paddling kayak is nice, but a great paddling fishing kayak requires more than just paddling performance.  It requires something we call "Fishability".  It's feeling confident enough to move around or even stand up and fish.  It's having your gear out of the way but within reach.  It's the comfort and ergonomics that enable long days on the water.  It's every piece, every part, and every function being carefully designed for versatility and with the kayak angler in mind.  It's an overall kayak angling experience in which things work the way they should work.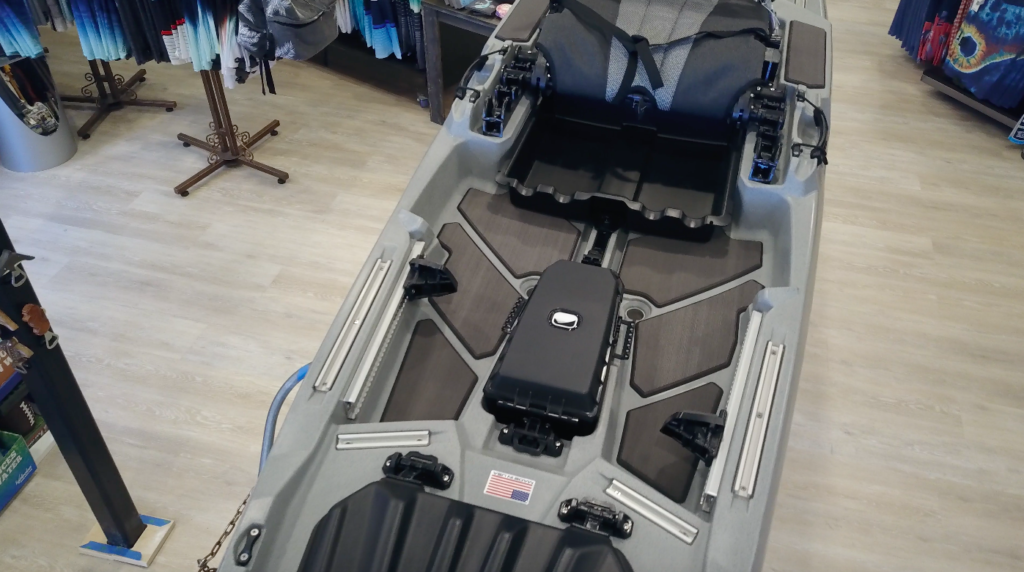 Demos
Watersports West offers demos on the Bonafide SS127 at our demo days on Saturday or by custom appointment. Saturday Demo Day:
Location: Belleair Causeway Boat Ramp
3900 W. Bay Dr. Belleair Bluffs 34640 take West Bay Drive (686)
located at the east end of the Belleair causeway bridge, look for our 37 foot trailer and white/silver ford truck please park your car in the car parking area, there is a $2 fee for parking if you have water shoes please bring them for best protection.
For custom appointments contact the shop and we'll schedule you in or you can rent the Bonafide SS127 and up to $100 of rental goes towards purchase.