Kiteboarding Lessons Tampa Bay
Watersports West is the original kiteboarding shop in Tampa Bay.
We are a family-owned brick and mortar shop that stocks everything kiteboarding related! Our shop is open from 10am to 7pm Monday to Friday and 10am to 6pm on Saturdays.
All our instructors are IKO certified and are dedicated to creating safe and independent riders. We teach kiteboarding 7 days a week, whenever the wind is blowing. We work with you to schedule lessons based on your availability and when its windy.
We offer package discounts on gear if you complete your lessons with us!
---
Free Ground School
We are offering a free ground school on Mondays and Thursdays. If you're interested in learning how to kiteboard this is a great way to gain exposure. We'll hook you into a harness and a control bar setup we have in the shop that simulates what its like to kiteboard.
Kiteboarding requires little strength and with our professional instructors is safe to learn! We walk you through the process involved with making you a safe and independent kiteboarder.
Send us a message to schedule your free ground school. Can't make our ground school? Let us know and we'll send you a complete lesson breakdown:
---
Lessons are run 7 days a week at any time the wind is blowing! We are flexible and will coordinate with your schedule.
Call us at 774-249-8062 for inquiries.

About Us: We have been kiteboarding since the beginning and want to share the stoke of this sport with you! We know you have what it takes so give us a call and we'll set you up with one of our certified instructors. Our mission is to create safe and independent kiteboarders through leveraging the most innovative gear and most certified and professional instructors in the Tampa Bay area.
Gear discounts: We understand that kiteboarding can get expensive so we offer additional discounts on new, closeout or used gear upon completing your lessons with one of our certified instructors.
What to Expect
Our instructors will provide all of the latest gear
All instructors are professionally certified and have taught for years
We will design a lesson plan within your budget
No matter your age or fitness level, you have the capability to do this sport!
Kiteboard Lessons St Petersburg
We offer kiteboard lessons from Sarasota to St. Petersburg, Clearwater to Tarpon Springs. We love kiteboarding and want to share the stoke with you! It doesnt matter how old you are or what type of shape you're in, you can kiteboard! For kiteboard lessons in St Petersburg or surrounding areas call us any time at 774-249-8062.
For more specific information regarding lessons and kiteboarding in St Petersburg Click Here
Kiteboard Rentals 
We provide kiteboard and kite rentals to the Tampa Bay area, from St Petersburg to Clearwater to Tarpon Springs. For rates and availability call us at 727-517-7000. 
About the Gear
Year after year Cabrinha proves to be the most innovative company in the kiteboarding industry. The benefits of learning on a Cabrinha kite is that you'll be able to have more control over the kite than any other kite brand in the industry. Learning how to kiteboard requires finesse and is muscle memory. Cabrinha kites will help you achieve that muscle memory quickly so you're up and riding in no time.
When you're ready to invest in gear stop by the shop or ask about our demos on the water.
If you're interesting in learning more about kiteboarding here are some frequently asked questions we get in the shop:
http://watersportswest.com/frequently-asked-kiteboarding-questions/
Specializing in kiteboarding  in the Tampa Bay area, and surrounding towns like Clearwater, St. pete Beach, Tierra Verde,Largo, Seminole,clearwater, Tampa, Lakeland, brandon, Lutz,Sarasota, Bradenton Tarpon Springs, Pinellas Park, Oldsmar, Holiday, Spring Hill, Hudson and many more! Watersports West is a 14,000 sq. ft. of water-sports heaven!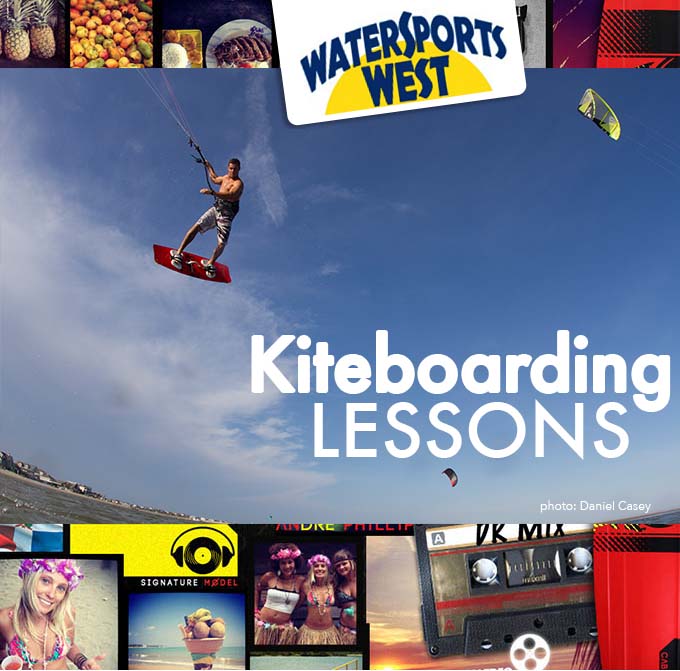 Kiteboarding Lessons Tampa Bay. Imagine kiteboarding these beautiful conditions.

Phase 1: Explore & Educate Kiteboarding Lesson
Phase 1: Explore & Educate Kiteboarding Lesson
Take advantage of this free introductory lesson that'll better prepare you for getting on the water. Call us ahead of time to set an appointment. Our class will give you the tools and information that you are looking for in order to be successful, safe, and RESPONSIBLE. Topics will include gear selection/explanation, rigging, wind assessment, weather assessment, riding area/launch assessment, safety protocols, rescue scenarios, wind window, power strokes, control bar theory using a live simulator, kite size selection, right of way and riding theory. You will receive a detailed packet for you to keep that includes tons of literature to get you through that first year of riding. You will also receive a detailed Tampa Bay Ride Guide covering 14 locations throughout Tampa Bay detailing popular places to kiteboard with important information about each spot to keep you safe and on the water for many years to come. This will be an important tool in planning your first session on the water.