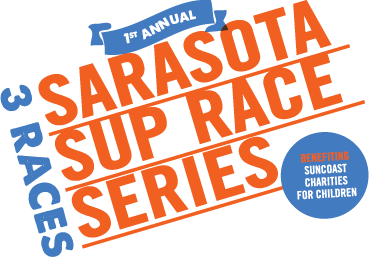 Sarasota SUP Series Races Kick-Off June 22 on Siesta Key
Sarasota SUP Series Races Kick-Off June 22 on Siesta Key
Sarasota, FL – May 30, 2013 — The first of the Sarasota SUP (Stand Up Paddleboard) Series (http://www.sarasotasupseries.com) races kicks off June 22nd on Siesta Key Beach. The first race of the three Sarasota SUP Series events starts at the north end of the Siesta Key Public Beach by the blue lifeguard tower on Saturday, June 22nd at 9 am. Each of the Sarasota SUP Series races is a unique experience, showcasing three different Sarasota County Parks. The second race in the series is at Nathan Benderson Park on August 24th and the third race is at Sarasota Sailing Squadron on October 12th.
The Sarasota SUP Series races benefit Suncoast Charities for Children – but the commitment of Sarasota Stand Up Paddleboarders goes beyond just writing a check. Members of the Sarasota SUP community will also be sharing the paddleboarding experience with local special needs children in an afternoon 'Kids Paddle' session after the races. Event sponsors, racers and participants are encouraged to all participate in this experiential donation of time and expertise to pair with a SCC Child and show them the joy of being up and out on the water. Board and equipment demos for interested spectators follow the SCC Kids Paddle.
The Series was created by Rob Alfieri, owner of SUP Sarasota, a local Stand Up Paddleboard company. SUP Sarasota has partnered with SUP board manufacturer HovieSUP to produce the races. Hovie SUP recently made local headlines for relocating its board production factory from China to Port Manatee, Florida. Rob Alfieri stated that, "This is the first SUP Race Series of its kind and is designed to showcase the accessibility and natural beauty of our parks and increase sports tourism. Our goal is simple, to make Sarasota County the premiere destination for Stand Up Paddleboarding in the country. We are especially excited to share with SCC children as well as willing spectators why we are so hooked on this sport – we think they will enjoy it as much as we do!"
The Races feature several divisions so paddlers of various board sizes and ability levels can all enjoy the competition and fun. A short three mile course has been set for paddlers who are either new to the sport or who wish to simply keep things light. A more challenging six mile course is offered for elite level paddlers and some of the best racers in Florida will be present to put themselves to the test along Siesta Key's scenic beachfront. The distance races shall be followed by short sprint races open to all entries to determine who is fastest off the mark.
To complement the water races, the SUP Series shall also have a Landboarding relay race at each event as well. Loaded Landboards is sponsoring the coed couple relay race which is open to all competitors. Landboards, land paddles and safety equipment shall be supplied as the majority of racers shall be experiencing Landboarding for the first time. These land races shall follow lunch and lead into the awards presentation.
Saturday, June 22nd Race Day Itinerary:
7:30-8:45 Racer Check-In – Black SUPreme Tent on Beach
8:45 am Racer meeting – Black SUPreme Tent on Beach
9:15 am Start of Elite Race – Beach Start
9:25 am Start of Open Race – Beach Start & Sprint Races
11:30 am Lunch available to all participants in Pavilion Area
12:00 noon Start of Longboard Races- Awards after Completion
1:00 pm Pro Clinic and Suncoast CC Kids Paddle
2:00 pm Board and equipment Demos for Adults
3:00 pm Board and equipment Demos for Kids
Awards shall be given to the top three finishers in each race division. The divisions are separated by age, sex, ability level and board size, so all who enter have a shot at receiving an award. Each racer receives a swag bag filled with SUP related goodies, a race series water shirt, free lunch and a raffle ticket for a chance at winning a multitude of prizes.
Race Divisions:
Elite Race: Men's and Women's 12.6, 14 and Unlimited Divisions, Over 50 in Men's 12.6 and 14's, Junior 12'6 Division. Distance – 6 miles. Cost – $45.00 / Series Pass $90.00 (all three races)
Open Race: Men's, Women's and Junior Stock Divisions. Distance – 3 Miles. Cost – $35.00 / Series Pass $70.00 (all three races)
Sprints: Free to all Elite and Open Racers – Buoy to buoy 100 yard dash
Landboard: Free to all Elite and Open Racers – Teams of 2 – In Parking Lot
*Awards given to top three finishers in each division. 5 racers must enter into a division for awards to be given.
The Red Bull MXT Truck will be on site to provide music, entertainment and race commentary during the afternoon, two Red Bull Sea-Doo's will oversee course safety and the Red Bull Wing Team will be providing samples of Red Bull products onsite. Kona Brewing Company will be sampling their renowned brews to an always appreciative audience. Top-tier event sponsors include SUP Sarasota, HovieSUP, Kona Brewing, Red Bull, Loaded Boards, TranquilMist, elementz nutrition, dizm Eyewear, SUPreme Apparel, HyperFlex Wetsuits and Perception Management. Organizations interested in sponsorship opportunities please contact Rob Alfieri at 941.704.4878.
Equipment and Instructional demonstrations, food, drinks and raffle tickets are available for all competitors, spectators and the general public.
For more information and to register go to http://www.SarasotaSUPSeries.com.
SUP is the fastest growing sport in the world, and the growth in Florida is explosive as new participants are eager to explore the amazing local waterways while enjoying incredible exercise.
Media contact:
Rich Schineller
941.780.8100
rich@prmgt.com