SIC Paddleboard Glide Center
Watersports West is the place to experience the 5 Star performance of SIC Paddleboards. We are recognized by SIC as an official Glide Center. What that means is that everything we have is available to demo. We encourage everyone to come out to our demo days that we are currently hosting at the Belleair Causeway. This is the best way to compare the SIC lineup, from the Recon to the X-series to the Bullet.
It doesn't matter if you're a newbie or experienced paddler, if you love paddleboarding and want to make the most of your experience, SIC has a board for you. SIC prides itself on having spent countless hours perfecting each board in their lineup from the shape to the manufacturing process to assure the consumer receives a board that paddles great, is ultra lightweight and is super durable. Our demo day is a great opportunity for you to test the different models and different dimensions of each model side by side. You can paddle the X 12'6 then test the X 14′ to see how much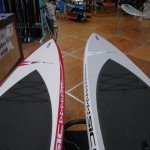 a difference in speed a foot and a half makes. To further your experience, we welcome you to rent any one of these boards and cost of rental (up to $100) goes towards purchase. If you like how the Bullet series paddles at our demo day, which is a flat water spot, you are welcome to rent it and take it to the gulf to see how much it excels with chop and swell. We want you to find the SIC board
that's perfect for you!

Our two most popular SIC boards are the X-series and Bullet. The easiest analogy we can give you for these boards is that the X are like a racing bike and the Bullets are like a mountain bike. If you like paddling fast you're going to love the X 14. If you want a board thats ultra versatile, great in flat water and even better with chop and swell, then you're going to love the Bullet. We even have the Bullet with assisted steering system (A.S.S.), so if you're paddling out in the gulf or in open water you can further control where you go.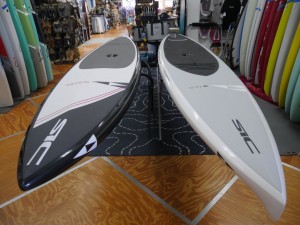 There's an SIC Paddleboard for you, whether you're looking to race or want a board that performs in waves, SIC has built a board in the top of its class. SIC offers different shapes in the surf design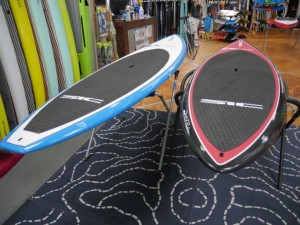 to provide paddlers a range of options. If you're the type of person that will occasionally surf but are looking to spend the majority of your time cruising, you'll be pleased with the shape of the Recon. If you're a dedicated surfer and are looking for a board that will push the limits with you and leave you with a smile on your face, then you'll love the Carve.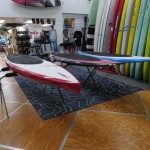 Come check out our shop and test an SIC paddleboard for yourself. We fell in love with these boards and we want to share that love with the rest of the paddleboard community. Whether you're looking to push yourself to the podium, surfing or a recreational paddler, SIC makes a top quality board that you'll love and enjoy on the water.