Watersports West & Woo Sports Springtime Kiteboarding Jump Contest
Sea breeze season has arrived in Tampa Bay and although it may not be the strongest winds, it provides some of the most consistent winds we get. Sea breezes form in the afternoons when air flows from the cooler waters to the faster warming land. A sign for a sea breeze is the puffy white clouds (which are usually located inland). A decent sea breeze can produce winds out of the NW from 12kts to 20kts.
---
The Competition
From Saturday, April 30th to Tuesday, May 31st your goal is to go out and log as many jumps as possible with your Woo Sports Tracker. The competition will be based on who logs the MOST amount of jumps during this time frame.
This is NOT a competition of who can demonstrate the highest jump but who can recognize the unpredictable sea breezes and get out the most.
Competition Time Frame
Saturday April 30th -> Tuesday May 31st
How it works
Every time you go out for a session be sure to turn on and use your Woo Sports Tracker.
Your Goal: Get as many jumps as possible during that session!
When you save your session use #tampajumps in your description. The hashtag "#tampajumps" allows the guys at Woo to quantify your session, so you are included in the competition.
Here is an example of what your session description should look like: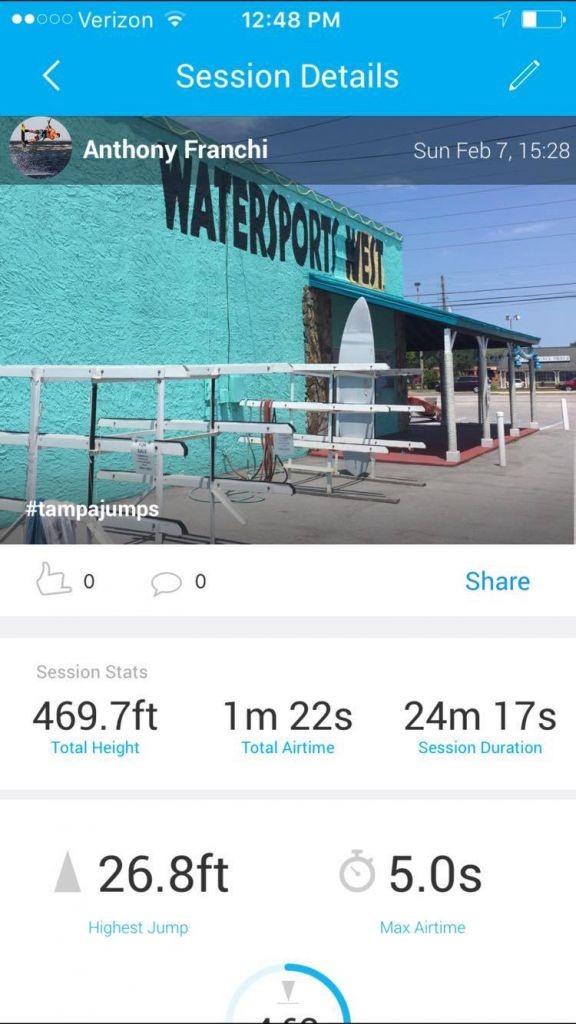 On May 15th we will post the stats of where everyone participating stands right here on this page.
Prizes
1st Place – $50 Gift Certificate
2nd Place – Woo Gift Bag
3rd Place – Set of Woo Board Mounts
Promotions
Don't have a Woo? Stop by our shop from April 26th 2016 to May 30th 2016 and buy your Woo. If you win this competition we will refund you $100 back from your purchase.
Buy your Woo here  or stop by the shop and we will get you set up
---
An additional tip for spotting a good sea breeze early in the day is a North Easterly wind flow in the morning. If it blows 10kts to 15kts out of the NE in the morning and the forecast calls for a warm and sunny afternoon, you can count on a 15kt to 20kt NW sea breeze later that day.