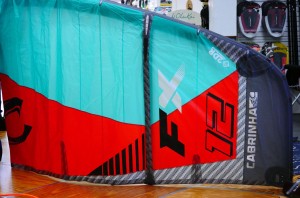 The all new 2015 Cabrinha FX is by far one of the most fun kites we've been on. It doesnt matter what style of riding you're doing, all that matters is that this kite will make it easier for you to progress as a rider. If you're looking for a quick, smooth turning kite with lighter bar pressure than a Switchblade, and the ability to do huge jumps with soft landings, then the all new FX is for you. We promise you're going to have a huge smile after every session with this kite.
Imagine taking the best qualities of the RPM and the Rebel and putting it in one kite, that is exactly what the Cabrinha FX is. Its a three strut kite that is unbelievably fast and smooth through loops. You will enjoy big airs with easy landings. The FX is incredibly easy to relaunch off the water, even with its flattened wing tips. This kite is the top performance kite on the market that is friendly for every level of riding.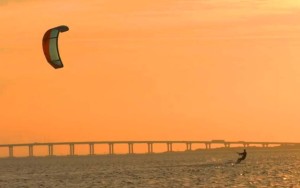 The 2015 Cabrinha FX is a hybrid C kite with no pulleys and a short bridle. The most obvious result is a fast turning kite. The three not so obvious and amazing features that revolutionize the market for hybrid C's is the huge wind range of the FX, a big upwind pull, and easy relaunching capabilities.
Call us to pick up one of your own or test it for yourself! Cabrinha says: The new FX freestyle crossover kite from Cabrinha is coming soon.
Update: Shop the 2015 Cabrinha FX online now